Every afternoon and night before nap and bedtime we have Bible time with the kids. Most often we read a story from their children's Bible, apply it to our lives as they would understand it, and then we pray. One of the stories is about the notorious Samson, titled "Samson the Strong." For those of you who are unfamiliar with the story it is about a young Israelite boy. God told him he must never cut his hair and in return He would make Samson very strong. However, instead of being grateful to God for his gift of strength, and instead of praising God for his blessings, he was proud and boastful. So God allowed circumstances (Delilah) to cut his hair causing Samson to lose his gift and become weak.
Throughout the last two years of my college basketball career, this particular story resonated with me. The talent, passion, and understanding I had for the game of basketball was a gift from God. He allowed the doors to open giving me a chance at a free education. Don't get me wrong. I worked very hard to get to where I was. My dad always told me, "God helps those who help themselves," and "Pray as though you depend only on God, but work as though you depend only on yourself." But see, somewhere along the line I stopped relying on God. I was not using the talent and passion He gave me to glorify Him. So, not unlike Samson, circumstances unfolded and my basketball career came to a premature end.
At the end of Samson's story, however, Samson realizes his mistakes and prays to God for forgiveness, and God, in His infinite mercy, returns Samson's strength to him. I can remember, in my final years of college, crying out to God, "I get it now. I am so sorry! Please forgive me. I promise to use my talents to glorify Your name!" For reasons I am sure I will not understand until I am standing face to face with Jesus, God did not return my talent to me. My ankle never truly healed, and graduation approached rapidly while I was still dealing with surgery options.
After my second surgery I was told I would likely never play basketball competitively again, and even running regularly for exercise would be questionable. Now, more than six years later, I have been able to return to the basketball court, playing with old friends whenever I can,
and
I have run two 5Ks, my first since 2002. It has been a long journey, but God as been with me every step of the way.
June 21st I ran in The Best of Eggertsville 5K with a time of 35:52. Here I am with my friend, Allison. She runs with me whenever she can!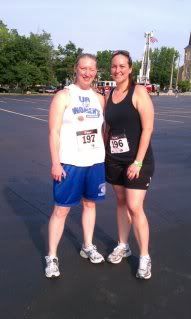 Then, June 29th I ran in the Celebrity 5K Run with a time of 28:25!
This is what my husband and kiddos made for me after that run:)
On the 4th of July I ran 5 miles (the farthest nonstop distance I have ever run), in 53:03. God willing, I would like to be able to complete a half marathon by this October.
I have learned that the running is a wonderful time for prayer and worship. It helps the run to go by faster while keeping me calm no matter how hard I'm pushing myself. Most importantly, it keeps me from reverting back to the "proud Samson" I once was. I am just so grateful to finally be back to doing what I love!
My next run is the Ronald McDonald House 5K, July 27th. If you would like to support this run and Ronald McDonald House Charities, you can donate right here at the end of this blog. Thank you for your donations toward this awesome charity and toward my healthier lifestyle!